Case Study 2 – Pam
Published on 02/05/2015 by Dr Jason Roth | Sydney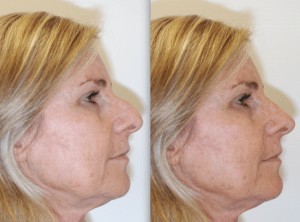 What was your initial reason to see Dr. Jason Roth?
The initial reason I went to Dr. Roth was for a bleeding nose. He cauterised a small area inside my left nostril that was a concern. This healed in a couple of days and was followed by no further problems. While at this initial consult he discovered that my left septum was deviated (which has been a breathing problem for me for years). This could be straightened by simple surgery. As I have always disliked the shape of my nose, I was curious as to what was involved in getting rid of "the bump" in it. Dr. Roth explained how he could easily straighten it. I said I would think about it.
Please describe how this condition affected your daily life & also how the consultation process prior to surgery was?
I returned to his office a week or so later to make an appointment for a septoplasty and rhinoplasty. Dr. Roth took photos and showed me on the computer what my profile looked like. We then went through various nose shapes that would suit me and chose a simple, and not obvious change. He described the surgical process, how it was done, operation time and length of hospital stay, which was just overnight.
Please describe your recovery period after surgery
The recovery period was a good 6 weeks. I was in a lot of discomfort for the first week as I had nose splints in and had to "mouth breath" as well as sleep elevated on 2-3 pillows.
This made sleeping almost impossible as my mouth and throat would dry out and I needed to sip water every hour. After the splints were removed I was much more comfortable. I has extensive black eyes which faded after about a month. The bridge of my nose was painful for 2 months. Swelling took about 4 months and still has slight oedema.
Overall, I am thrilled with the result and I am glad I had it done. I can now breath freely in both nostrils, my nose has a "normal" nose profile, and I don't have a continuous dripping nose which I have had for over 30 years (this was obviously the bonus of having my sinuses cleaned out!).
I would say overall that Dr. Roth is a talented ENT/ plastic surgeon.
Dr. Roth's Summary
This is a middle aged lady who presented initially for treatment of nosebleeds.
During our consultation she also raised with me concerns about longstanding breathing problems, allergy symptoms and a post-nasal drip.
Examination revealed thin to moderate skin thickness with moderate sun damage. The profile view showed a combined bony and cartilaginous hump with a deep radix. The front on view showed a relatively straight nose with a slight curve to the left in the mid portion. The base view showed nostril asymmetry. This was caused by a dislocated caudal septum into the left nostril.
Surgery involved an open approach septoplasty, cosmetic and functional rhinoplasty and turbinoplasty. The dorsal hump was removed and spreader grafts were inserted. Spreader grafts add support and stability to the middle third of the nose after a hump is removed. The dislocated septum was mobilised and attached to the midline. An endoscopic inferior turbinoplasty was performed. These procedures assists with improving the nasal airway and often reduces post-nasal drip in patients with allergies.
These early post-operative photographs were taken at two months. There is still some swelling of the nasal dorsum which will resolve over the next ten months.