Rhinoplasty Success Stories
Published on 24/02/2015 by Dr Jason Roth | Sydney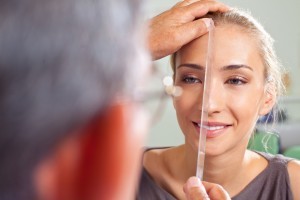 Rhinoplasty can be an intimidating venture, with the expectation of pain and a long recovery period. However, three patients that came to Dr Roth with various cosmetic and functional concerns found the procedure offered more value than discomfort. In fact, once the healing process was completed, these patients found their quality of life to be significantly improved over what they had experienced before their nose surgeries.
Patient #1: Correcting Broken Nose
The first patient in this case study was a young woman who broke her nose when she was a child. The injury had left her with chronic sinus problems, including frequent headaches, infections and pain when flying. Dr Roth diagnosed her condition and made recommendations for surgery.
After a single night in the hospital and a week of nasal splints, the patient began to see relief from her sinus issues. The recovery was not quick – the patient experienced periodic bleeding from the nose and bruising and swelling around the eyes. However, three months after the procedure, the patient began to see real improvement in both the appearance and function of her repaired nose.
Patient #2: Bleeding Nose Reveals Deviated Septum
The second patient had gone to Dr Roth for a bleeding problem when Dr Roth discovered she also had a deviated septum. After treating the bleeding issue, Dr Roth recommended surgery to straighten the septum and relieve breathing issues the patient had been experiencing for many years. The patient also requested cosmetic correction for a prominent bump in the bridge of her nose.
The recovery period from both rhinoplasty and septoplasty took about six weeks for this patient. The post-operative discomfort was significant for the first week until the splints were removed. After that time, there was some residual discomfort, bruising and swelling, which took approximately two months to resolve. Now, the patient enjoys freer breathing, a nose that no longer drips constantly and an improved appearance overall.
Patient #3: Broken Nose Affects Appearance, Function
The third patient had broken her nose numerous times, which resulted in a cosmetic concern, as well as functional issues. An initial surgery with another ENT did not bring the cosmetic correction the patient hoped, so she went to Dr Roth in hopes of a better experience. Dr Roth agreed to correct the aesthetic problems with the nose while preserving the improvement to the patient's breathing she experienced after the first procedure.
According to this patient, the second surgery went more smoothly than the first, although the level of discomfort was similar for both procedures. After the second surgery, the nose felt lighter and the patient maintained a healthy appetite after surgery. While she is still waiting for the swelling to go down, the patient is optimistic the results will be more satisfactory this time around.
To learn more about your options in rhinoplasty or septoplasty, contact Dr Roth's office at 02 9982 3439.