Case study – Tamara
Published on 31/08/2015 by Dr Jason Roth | Sydney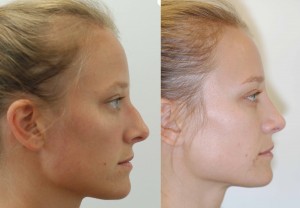 *Individual results may vary.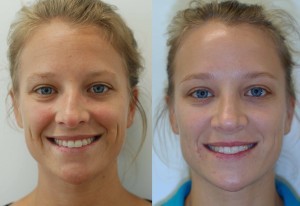 *Individual results may vary.
What was your initial reason to see Dr Jason Roth?
A couple of days before Christmas in 2013 I had a surfing accident and broke my nose. At Manly Beach, 6pm on the last Friday before Christmas, I hailed down a local surfer to drive my surfing buddy and I to emergency at Manly Hospital. Due to the lack of surgeons available because of the busy pre-Christmas period, I left being told that I wasn't able to see a ENT specialist until the end of January next year. For obvious reasons I needed/wanted to seek a professional opinion on how to deal with the injury at hand as soon as possible. After just moving out of my family home a couple of months before hand, finishing university with a huge personal loan from my parents and expensive weekly rent, my first thoughts were $$$! I was so annoyed that this accident happened at a very inconvenient time. In addition, I also found out later that this was the weekend that my boyfriend was planning to propose to me! Being the kind man he is, he decided that I probably wouldn't want engagement photos with a broken nose – a very smart and thoughtful man!
Please describe how this condition affected your daily life?
Naturally the first thing that was a concern to me was the aesthetic complications that come with having a broken nose (vein I know – but hey I am a female after all). Little did I know that this would not be my only concern, nor the most important one. Over time, I became to realise that my breathing was heavily affected. Due to the deviated septum one of my nostrils was basically blocked. I love my sport and the majority of my free time goes to running, swimming, surfing, walking and yoga. My partner and I are known by our friends as the 'activities couple'. From the time of the accident till surgery (approximately 3 months) I struggled to do any type of exercise which had a major affect on my mental and physical status. I started to become out of breath very easily and the only type of exercise I was able to handle was walking slowly (very boring!). Another aspect that affected my life was my sleep. I am an 8 hour a night kind of person, and without my 'beauty sleep' I struggle to stay in a good mood and not get run down, thus it is a very critical component to my busy daily schedule. Sleeping became a tricky situation, as I had to prop my head up on 3 pillows so that I wasn't lying down horizontally. Consequently this affected my neck (and migraines) so I started to undergo chiropractic therapy to help compensate the awkward sleeping position. The affect on my personal confidence was an internal struggle. Although I was very lucky in that my broken nose was 'not that bad' to the eye, internally I felt like my nose was a Picasso picture. It was frustrating to me when others (although with no bad intentions) would say "it doesn't look that bad". It was my identity, my face, me, 'Tamara Cox', which I was so used to looking back at me in the mirror every day, and it just was not the same. Although normally a confident person, I become less likely to go out in public and at times wasn't keen to be surrounded by friends because I was self conscious of the situation. Lastly, I am not sure how this affects others that go through this experience in regards to their occupations, but for me working in High Risk Foot Clinic as a Podiatrist, I am required to wear personal protective equipment, specifically goggles, all the time during patient interaction. Due to the angle of the nose, swelling and pain this was not an option. In addition, I wear glasses which meant I had to wear my contacts 24/7 which usually wouldn't bother me, however nail dust, infections, possible risk of becoming in contact with discharge whilst treating this became a risky situation. Alas, things must go on, so I just dealt with it.
Please describe the consultation process prior to surgery
For me I was extremely lucky that Jason is connected with social networking as it was extremely hard to get in contact with any ENT just a couple of days before Christmas! After my boyfriend and I spent hours calling every ENT on the Northern Beaches, North Shore and Inner Sydney areas, I managed to stalk down Jason down via Facebook (I was desperate) and send him a personal message. Jason replied within the day and very kindly offered to see me the next day, although he had closed up his practice for the year. Following this we had many appointments discussing my options available and gaining reassurance on my final discussion. For me being a perfectionist and someone with OCD qualities it was very hard to put 100% trust into someone else who is dealing with my face! I had read Jason's credentials on his website and although very impressive, it was hard to hand over complete trust to someone else. Having been from a health professional background myself, I was very impressed with the process, explanations and reassurance from Jason. Jason even offered to see me (more times than what was recommended) many times before the surgery because every time I got home I realised there was one more question I wanted to ask. Jason was very understanding, empathic and professional.
Please describe your recovery period after surgery
Looking back, it was definitely worth the pain. It is very scary coming out of a 3 hour long surgery especially when at this stage you can't see the results straight away. But I was confident that Jason had done an exceptional job. I only had to take pain killers for about 3-4 days but I had also planned to do a cold-pressed juicing cleanse after the surgery which I think helped the healing process as my body was pumped with numerous nutrients and minerals. I wasn't allowed to get my face/head wet which wasn't too much of a concern as I had a bath available at home. I also organised to have my hair washed at the local barber for $10 which I did every second day which worked out perfectly. I realised early on that you really need to rest as much as possible. The first day of recovery I was out and about which I think took its toll pretty hard (the general anaesthetic really takes its toll on the body – even when your young!). Besides those two things it was just a lot of resting and watching movies at home. The follow-up appointments that I had with Jason were just as streamline as the pre-operation appointments. All my questions about the surgery were answered without any frustration from Jason (because there were many – trust me!). I felt very comfortable to discuss anything and no question was a dumb question. When the plaster was taken off I had a panic attack once I left the office – not because of what it looked like but because it was a different nose. My identity had changed. However once that was over and I had taken in the whole shock of it all, I was able to inspect my new nose and I absolutely loved it! There were no surprises, it looked like I imagined it would after our discussions. I couldn't be more happier. I now had an even better functional nose and it looked even better (still my nose but just straight!).
Dr Roth's comments:
Tamara was 27 when she emailed two days before Christmas after breaking her nose surfing, not an uncommon injury on Sydney's Northern Beaches. Her nose was unfortunately noticeable deviated over to the right and her breathing was impaired. We organised an urgent appointment for Tamara in my office. When I examined her nose I could feel that the left nasal bone had been depressed inwards and the right nasal bone elevated outwards. The nose was tender and swollen. Her nasal septum could be seen to be markedly deviated internally
In the acute stages after a break to the nose it is best to wait at least 7 to 10 days for some of the swelling to resolve. Then the nose can be better assessed and treated. We followed this protocol with Tamara and returned at a later date to correct things once some of the swelling had resolved. Tamara had a septoplasty, rhinoplasty and bilateral turbinoplasties. A hump on her nasal bridge was removed and the nose was straightened and narrowed. Her airway was at least doubled in size internally after her septoplasty and turbinoplasties. This was achieved through a "closed approach" rhinoplasty with no external incisions. Both Tamara and I were delighted with both her cosmetic and functional result.
*Individual results may vary.