Facelift Surgery
The facelift is the operation that can reverse the changes of ageing in a significant and long-lasting fashion. Everybody ages at different speeds and in different ways. A facelift needs to be carefully planned and customised in each case. With good planning and techniques the facelift can procedure very natural results that wind back the years and take a person's appearance back to their younger years.
Facelift surgery generally has an extremely high satisfaction rate. It is important to see a surgeon who has experiencing in performing all types of facelift so that the very best and most appropriate procedure can be planned for you.
Dr Roth is one of a small group of specialised ENT and Head & Neck Surgeon specialsing in facial surgery. That is, he only performs facial surgery on the face and neck. Dr Roth specialises in the vertical platysmal or deep plane facelift. Benefits of this technique include a natural and longer lasting result with minimal to no pain after surgery, only mild discomfort and a recuperation time of approximately two weeks, after which one can resume a "public life".
The deep plane facelift technique focuses on the deeper facial structure and ensures there is no unnatural tightening or pulling of the facial skin that used to typify older style facelift techniques. The deep plane facelift has won the devotion of patients and acclaim from the plastic surgery community.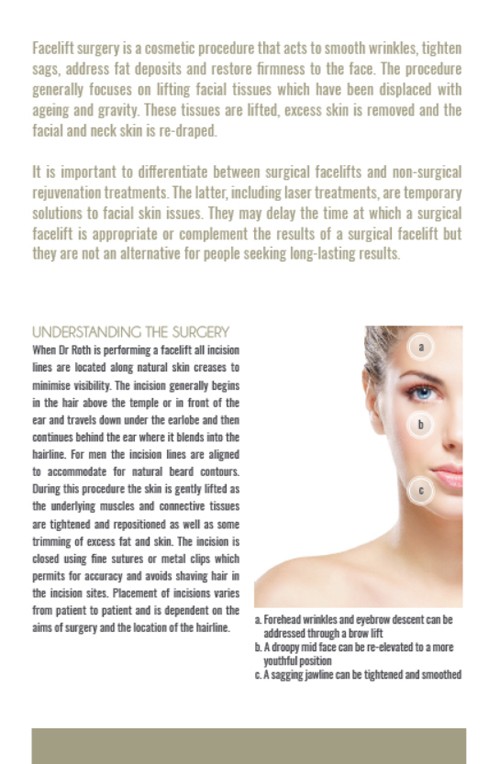 Dr Roth's credentials and training in facial surgery are significant. After graduating from the Univeristy of New South Wales, Dr Roth completed his residency in Otolaryngology, Head and Neck Surgery at the Royal Australasian College of Surgeons. He then went on to complete a prestigious American Rhinologic Society fellowship in advanced rhinology and facial plastic surgery at Rush Univeristy in Chicago. He received instruction from a number of world leaders in facial plastic surgery. He then studied with Nolst Trenite and Dirk Menger at the Bergman clinics and Academic Medical Institute in the Netherlands. He went on to complete the International Board Certification in Facial Plastic and Reconstruction Surgery in Washington DC. He has studied with Dr Neil A Gordon in Connecticut, one of the pioneers and acknowledged world leaders in facelift surgery. Dr Gordon is the world's leading expert on the deep plane facelift technique.
Dr Roth is currently a member of the American Academy of Facial Plastic and Reconstructive Surgery and the Australian Association of Facial Plastic Surgery, the Australian Society of Otolaryngology Head and Neck Surgery, the Australian and American Rhinologic Soceties and the Royal Australasian College of Surgeons.
In addition to his formal training, Dr Roth takes great care and pride in the journey of each of his facial surgery patients who come under his care. He invests an immense amount of time and energy to ensure that his patients experience only the very best in care leading up to their surgery, during their hospital stay and during their recovery. He strongly believes that all these aspects of a patient's journey are important to obtaining the very best results. He is personally involved in all his patient's pre and post-operative care visits.
Dr Roth's services are frequently sought by patients from out of state or overseas. His staff are only too happy to assist with making the surgical journey as seamless as possible for his patients. He operates at a select number of private surgical facilities that meet only the highest standards of patient care, privacy and comfort.
Types of Facelift
A facelift procedure may also be combined with a neck lift, brow lift, upper or lower eyelid lid lifts (blepharoplasty) or other procedures such as a rhinoplasty or otoplasty (ear pinning).
The browlift
When the mid and lower face is lifted as a unit it is frequently necessary to perform a browlift at the same time. This ensures that the entire face is rejuvenated rather than only parts. The browlift incision is hidden in the hairline and does not change the shape of the eyebrows, only the skin of the brow and temple areas. It can also be used to lower the hairline in men with a receeding
hairline.
Neck lift
Ageing can produce marked changes in the neck. A neck lift is essentially part of the facelift. Gravity has caused the tissues of the face and neck to have dropped as a single unit. A deep plane facelift will appropriately reposition these tissues using the platysma muscle as a sling.
Click here to learn more…
How do I choose the right specialist cosmetic surgeon for my facelift?
It is important to choose a surgeon comfortable in the head and neck area. Some plastic surgeons specialise in body and breast work. A specialist facial surgeon is a surgeon who specialises only in facial surgery. It is also important to recognise the benefits of the deep plane facelift over lesser lifts.
The consultation process
When you are ready to discuss your facelift further, the next step is a consultation. This is typically a 45 to 90 minute appointment where Dr Roth will carefully listen to your concerns. He will then examine your facial skin and soft tissues to assess the effects of ageing. Dr Roth will then explain what components of the surgery are necessary in your case and where the incisions will be placed (typically hidden in skin folds and in the hairline).
Photographs
Photographs will be taken. These are helpful in discussion and in planning. Computer image morphing is not performed for facelift surgery.
---